Did you know these four facts about wooden snare drum?
The sound you expect to achieve with wooden snare is usually descriped as "warm", "mellow" and "natural". These are for sure very descriptive adjectives, wooden snare is an obvious choice when you are after this kind of sound. What about going to a gig to play some heavy metal? You will need a loud snare with a well projected and dominant sound. Well, good news! You can definitely achieve a typical sound of metal snare also with a wooden snare.
Let´s go through the following four facts to clear things out.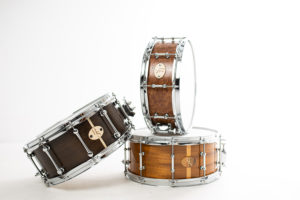 "RS Drums has released a very user-friendly service where you only define the preferred sound and appearance of the snare."
Benefits that will change your impression about wooden snare
Tonal diversity of a wooden snare is extremely broad due to different species of tree having completely different sound qualities
Not all species of tree sound warm, mellow or natural – despite the typical image. For example, with very commonly used beech you can achieve bright, well projected and even aggressive sound with fast attack and unpresent low frequencies. Birch is very similar to beech, but it has just a tad more low frequencies and the high end is smoother.
As an opposite to beech and birch, mahogany sounds really warm and round with a lot of lower frequencies and muted highs. Walnut is somewhat similar to mahogany with its warm sound character but it is still more of an all-rounder what comes to its frequency response.
Obviously there are then numerous species of tree that fill the tonal gap between mahogany and beech. The range is from quiet to loud, from dark to bright, from round to tight and so on.
Selecting the species of tree is a first step to determine the desired sound. But what makes a big difference as well is the thickness and the depth of the shell and bearing edges. The possibilities are nearly endless with the different combinations. So it really is possible to build a wooden snare to fill the needs of metal drummer as well as traditional jazz drummer.
To achieve a certain sound and appearance, several species of tree can be combined in a drum shell
If the previous fact opened your eyes for the versatility of a wooden snare, this one may blow your mind. When building a wooden snare, you can freely combine different species of tree instead of using just one. Thanks to plying technique, only imagination restricts different combinations. Two things to be considered when selecting the species of tree are sound qualities and appearance.
Let's take an example:
You want a snare with round and full sound, a lot of low frequencies, but also an airy high end and decent projection should be present. The appearance of drum should be personal, lively and organic.
This kind of drum could be achieved with a combination of mahogany and cherrywood. Mahogany offers very warm and round low end as we have already learned. Cherrywood adds the pleasant and airy high end without being too dominant as birch and beech could be in this case. We would then select northern red oak for the outer surface to give that live and organic appearance with its very well present grains.
With this simplified example you hopefully get an idea that there really are dozens and dozens of possibilities to make your drum sound and look like you!
It is possible to select the outer ply of the shell only on the basis of the look
We touched on the appearance aspect already in the previous fact. But once more: the outer ply of the shell that determines the appearance of the drum can be selected purely on the basis of the look. It does not affect to the sound in practice. There is a nice variety of different characteristics what comes to a look of species of tree. Some of them are very light in tone where as some are very dark or even reddish. Grains may be very smooth and inconspicuous or on the other hand very prominent and organic.
Whichever ply we choose, the end result will be in a way or the other unique. That is the beauty of the wood!
Several lacquer coating techniques (including colors) affect the appearance even more, but RS Drums prefer the natural look of the ply. Avoiding the unnecessary processing will lead to the elegant and timeless appearance – or so we think of it.
The more expensive species of tree does not automatically sound better – neither more cheaper species of tree sounds automatically worse
What determines the cost of a certain species of tree is its commonness and availability – not its sound qualities. Also the workability of the certain wood affects to the cost of the end product. The more rare the wood is, the less you can obviously hear that kind of sound "in the field". That makes the drum made of the rare species of tree more valuable and unique to its owner.
But. If you are after the sound that birch or maple can offer, then birch or maple are just right choices for you. And lucky for you they are also quite affordable materials. Comparing expensive and cheap species of tree are like comparing apples and oranges. Which one is better, it really is the matter of usage and taste.
When combining some common species of tree with the rare ones, it is possible to find something new and interesting in both sound and look wise while still keeping the price tag reasonable.
In the end of the day it is all about the personal preference of the player. Saffron is not for everyone despite being the most expensive spice in the world, you know!
How YOU can get the perfect wooden snare WITHOUT knowing anything about species of tree?
RS Drums has released a very user-friendly service where you only define the preferred sound and appearance of the snare. You simply don't need to know anything about materials or other technical details. Drum carpenter Marko Seppä-Murto designs the snare drum according to your specs and makes an offer for the custom snare drum, which is truly designed for you.
You DO NOT
have to understand anything about the things happening under the hood
have to accept the compromises of the stock products
have to pay extra for the features you don't need or want
You GET
a unique, long-lasting and top-quality snare drum designed and handcrafted in Finland, Europe
Configure your own snare
Take a few minutes to fill in a form and then wait to receive an offer for a custom wooden snare designed just for you.